Class Join Code (Suggested)
If your district is set up with TechSmart to use a Single Sign-on provider such as Classlink, Clever, and Google, then having students join through a Class Join Code will be available to you. This is the simplest way to provision student accounts and have them join your class.
Watch this video to see the teacher and student workflow.
Instructions:
1. Class Join Code (found in the Gradebook):
Communicate the Class Join Code to students using one or more of the following options - present it to the class using TechSmart, verbally, writing it on the board, or posting it on a Learning Management System such as Canvas and Google Classroom.
View Class Join Code - From the 3 dot menu in the Gradebook select the "View Class Join Code" option.

Empty Gradebook - If your Gradebook is empty with no students, then you will also see the Class Join Code on the left where student names usually are.
Present Class Join Code - With either of the options above you have the Classroom Setup Button so that you can show the Class Join Code for the class in a new tab similar to how it works with the Code view.
2. Students sign in and enter the Class Join Code:
The article How do I join a class? (Student Article) covers how to join the class from the student perspective.
Summary: Once students sign in using one of the sign in options (Classlink, Clever, Google) then they enter a Class Join Code. Students then wait until the teacher admits them to the class via the Gradebook.
3. Admit Students through the Gradebook:
Once students have entered in the Class Join Code they will have to be Admitted or Removed (if needed) from the class and this is all handled through the Gradebook.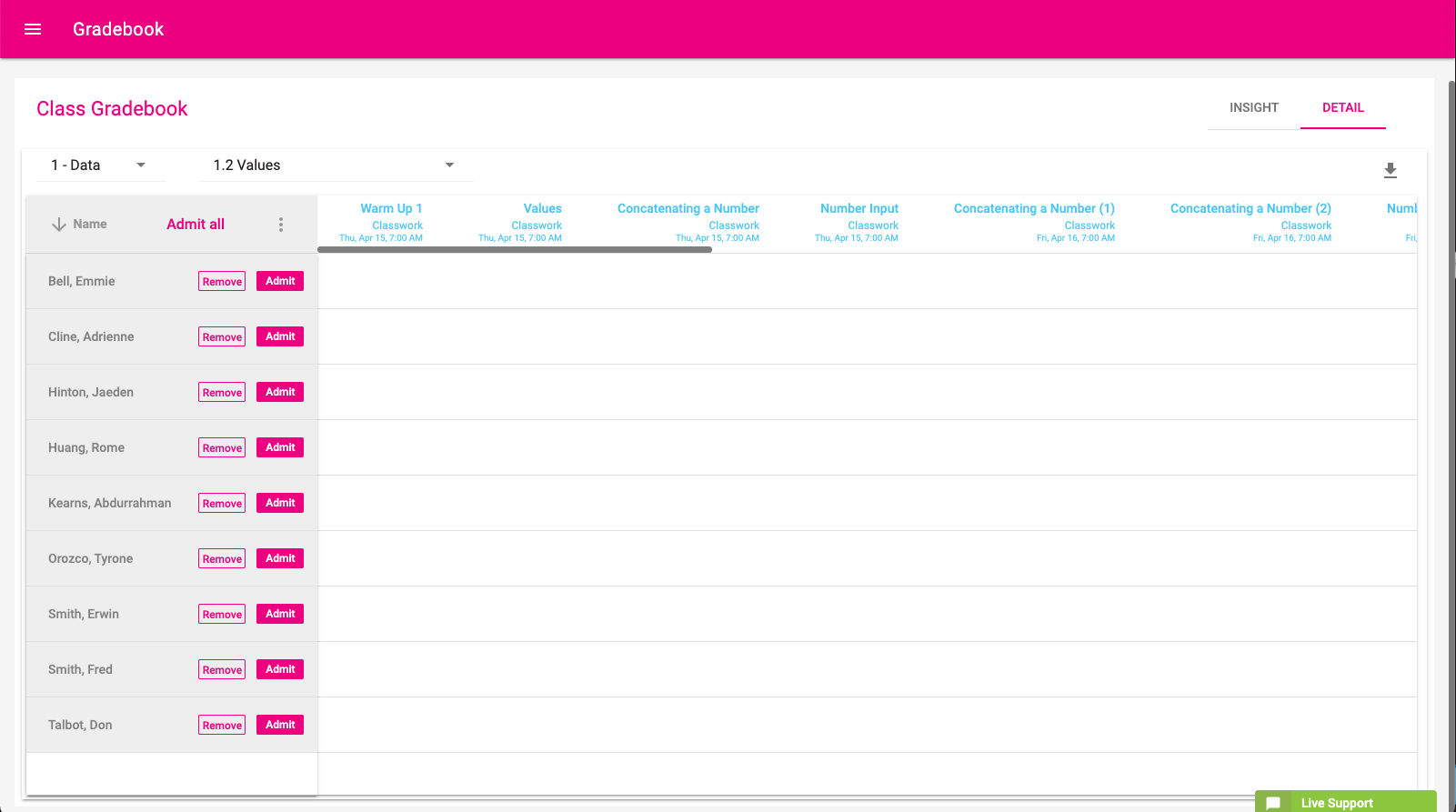 Admit all - The easiest option for allowing all students into the class that are pending approval. This may be the common case to use when starting the class for the first time at the start of the course.
Individual Remove / Admit - On an individual student basis you can also Admit or Remove (Deny) the student from joining the class.
Admitted students:
Once a student has been admitted to the class they will be taken to the Assignments page for the class.
Removed (denied) students:
As the teacher, if you have removed the student while pending admission, then the student will see a dialog that the teacher has chosen to not allow them to join the class.
Manual Account (If needed)
In a scenario where a student may not have a Single Sign-on option available to them yet (If they are a new student) then a teacher can create an account for them manually using the TechSmart account creation and sign in process. Read more about that here.
Suggested Articles: