Step 1: Link existing TechSmart account (Suggested)
If you have an existing TechSmart account that you want to use when signing in with a SSO provider, you will want to link these accounts. To do that use the "Sign-in Settings" in the account menu.
Read more about how to do that here.
Step 2a: Open from SSO Application Portal (Classlink or Clever)
Classlink and Clever both have an application portal that students can access and use as a central place to open applications and automatically be signed in.
To open TechSmart from one of these application portals just click on the TechSmart application.
Step 2b: Directly via TechSmart
Whether you use Classlink, Clever, or Google as a SSO provider you can sign in with any of those directly from our sign in page.
Click on the "Sign in with Google" or the "Classlink" or "Clever" links to sign in with one of those options.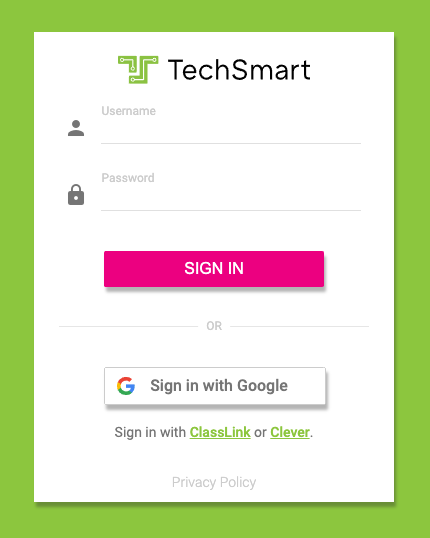 If you are not already signed in with your SSO provider you will be prompted to sign in and then immediately afterwards will be redirected back to the TechSmart Platform.
Suggested Articles: